Yes Virginia, There is an I in Team
In this playful leadership lesson, Santa teaches Virginia about different personality styles and the strengths of his reindeer team. And, how together, they work to accomplish a noble goal. We hope you enjoy this playful view on Everything DiSC and have a wonderful holiday season!
---
Dear Santa,
My mummy and daddy say there is no "I" in team. I don't quite understand this because Rudolph is the bestest reindeer of the whole bunch.
P.S. All I want for Christmas is for my brother to stop fighting with me.
Love, Virginia
---
Dear Virginia,
I know your parents have learned that there is not an "I" in team. And they'd be correct, the word team is not spelt with an I. However, a team is made up of many individuals working towards a common goal.
No matter what team you are on, each team member has their own unique strengths that can help everyone finish strong!
I've been watching you, and I know you know your ABC's. There are four letters in the alphabet that I will use to describe a few of the reindeer's personality so you can remember them easily. The four letters are D, I, S, C.
Dasher is the fastest reindeer. When we get behind on our deliveries, with his burst of speed, Dasher charges forward. He creates a sense of urgency in all the other reindeer. He's what we call a Dominance (or D-Style) personality type.
Now Vixen. Ho Ho Ho! Vixen may seem like all fun and games because he's the playful trickster. But, aside from the laughter, he's very creative at getting us out of difficult situations. Vixen encourages everyone to share their perspective and helps us come up with the best solution possible. Vixen's the Influencer (or I-Style) in the group.
Comet is very special to us. He's so easy-going and seemingly unflappable. If one of us has a problem, he's the one with the listening ear. If there's a conflict, you can rely on Comet to help us understand one another and get along better together. His Steadiness (or S-Style) is very much appreciated on the team.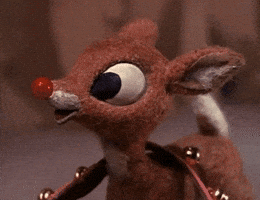 Of course, Rudolph seems like the best reindeer, and he certainly is the most famous. Rudolph may seem like a bit of a loner because he's working so hard behind the scenes. He plans our route and figures out all the details to ensure we have the most efficient route to complete our journey before midnight. Rudolph's Conscientiousness (or C-Style) is relied on to painstakingly plan the journey so it is not too bumpy along the way. And that bright red nose makes him a great navigator too!
Now, for you and your brother. I encourage your family to identify one another's unique strengths and work towards appreciating them for how it helps your family be a great family. How does your brother's strengths help you when you are struggling? How do your strengths make your family a better family? How are you becoming a better "I" on your TEAM?
So, yes Virginia, there is an I in TEAM! This year, you and your brother have both been very good individuals on your home team! So, I'll be dropping by on Christmas Eve with a special gift for each of you!
In the meantime, if you're interested in learning more about the different personality styles and how they can help you build a stronger team, I encourage you to explore Everything DiSC. Discover how this tool can help you improve communication, build stronger relationships, and achieve your goals as a team.
Ho Ho Ho!
Love, Santa
Lisa Holden Rovers, MSc, CPHR, PCC, is the Founder of Workplace Matters. Since 2005, she has been coaching small and mid-sized business leaders to grow their influence and inspire their teams to thrive. With her data-driven coaching and training approach, Lisa helps clients improve collaboration, productivity, and well-being. As a certified leadership and team coach, Lisa utilizes solutions like Everything DiSC® and The Five Behaviors® to help clients leverage their strengths and build high-performing teams.
let's connect!
Grow as a Leader and Thrive as a Team!
Stay connected to receive future lessons straight to your inbox.
We respect your privacy.